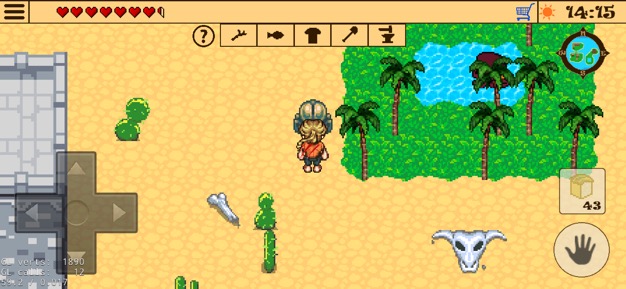 Survival RPG 2:Temple ruins 2d is the sequel to The lost treasure. Described as a "Stranded fantasy exploration", like the first game it involves a lot of foraging and crafting as well as fighting.
On the first game, you were looking for a lost treasure, you ran aground and ended up on a deserted island. After many combats, items crafting and adventures, you finally found it and came back home with your ship and relaxed.

But shortly after, you were eager for new adventures. You heard rumors of a magical artifact that lies among the temple ruins. So you decide to embark on a new journey full of adventures leading you to a mysterious temple in the jungle.
Features include:
7 story chapters that will bring you to the artifact
30+ dungeons, caverns, jungles, temples and huts
Multiple quests and characters to help you in your journey
Hidden items and treasures with treasure maps
Puzzles to solve
Links: