Piracy, sea travel, underwater exploration… if you like games with a watery element, this month's theme of Ocean is for you.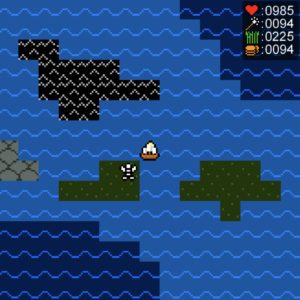 Some games are set around water, and others feature boat travel which can add a whole new dimension. I love sea travel as I love the exploration element of RPGs. In the Avernum games, being able to buy a boat gives you access to new areas and dungeons. In Lowerlander, you can finally get around the mainland more easily, and navigate to other islands.
Oceanhorn is one of the best-known ocean-themed games, and the great news is that Oceanhorn 2 is apparently on the way:
"We have been building an adventure! More gameplay, more story, more levels, more worlds. A city. Capital is one of the central locations of Oceanhorn 2's story and it offers tons of open-ended exploration for curious adventurers. In the heart of the city is the gigantic machine Grand Core."
Not forgetting piracy, with Sid Meier's Pirates! being one of the first games I ever played, back in the black-and-white days of the very first Macs.
And while it may not strictly (or in fact at all) be an RPG, the Civilisation-esque strategy game Polytopia has a major seafaring element, both for exploration and battle, and is endlessly replayable.