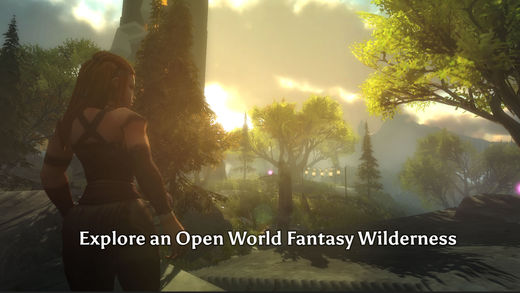 Nimian Legends: BrightRidge HD is just insanely beautiful. It's a primarily a glorious, hand-crafted open world wilderness to explore and discover the secrets of. There are also some adventure/story scenarios you can play, which are fascinating and beautifully written.
If you love the exploration aspect of a game like Skyrim, checking out views and sunsets and immersing yourself in a fantasy world, then this is for you. As the developer puts it: "BrightRidge all about freedom – to fly and swim and really go anywhere."
It's feature-rich, with masses to discover (most of which I haven't even discovered yet):
two story modes: The Ballad of BrightRidge, Love & Tin
shape change powers to become an animal or bird, and fly
photo mode to take screenshots
legends and lore: NPCs who reveal more about the world
The dev is still highly engaged with the game, and there's an active community (see this vast discussion thread on TouchArcade). More updates are being put out all the time, and the dev hopes to eventually be able to work on it full-time (though it's already a complete experience).
The game has endless graphics setting options: it played fine on my 7+ and plays perfectly on my X, but should also work on older iPhone models. You can also turn on Watercolour mode to "experience a living painting".
Links: