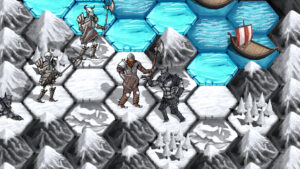 Paladin's Story: Fantasy RPG is billed as a "classic RPG with a modern twist" which "offers old school roleplay experience, combined with snappy dialogue and timing-based combat".
The combat is quite intricate (I was reminded a little bit of Jade Empire) in terms of the moves you can do, with various swipes. There's also an interesting difficulty mechanic, where every ten enemies you kill, a harder difficulty setting unlocks, which makes enemies much more powerful but grants you some bonuses including a higher chance of rare eq. You can also turn this difficulty setting back down or up whenever you like.
The game is much more enjoyable once you pay to unlock the full version as resting after combat is so much quicker.
Welcome to the vale of the elder, Paladin! You seek a legendary quest? To fight a mighty dragon, a wicked witcher or the dark souls from oblivion? Yes? Dang … those were the quests from last week.

Let's take a look at the new scrolls! How about fighting the orcs? Become a valiant crusader and stand against this rising evil. Purge them before they raid and pillage our lands into oblivion!

Go on the elder's quest and join the paladins of the elder!

Scroll of features:

open world with a medieval fantasy theme
melee action with many a sword fight & mighty combos
legendary loot (hundreds of generated items)
text-based story (over 150 quests)
classic RPG (offline play)
Links: