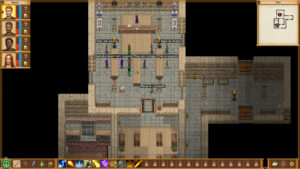 Queen's Wish is the first game by classic RPG devs Spiderweb Software to be released for iPhone as well as iPad. Like all Spiderweb games it's open world, with dozens of quests and hours of gameplay, as well as moral choices to make and loot to find.
You play as the royal child of the Queen of Haven, when you get banished to a lost colony to fix the situation there. You can either reconquer the rebellious natives or work with them on a more collaborative peace.
If you've loved Avernum, Avadon and all the others, you'll greatly enjoy this too. It's party based with tonnes of loot and eq to find.
Epic fantasy adventure with over 50 hours of gameplay.
Open-ended story in a variety of mysterious lands, featuring many choices, paths and endings. Lots of replay value.
Suspenseful tactical combat. Select from fifty different abilities. Build and rebuild your warriors to face rapidly changing foes.
Explore (and conquer) an enormous outdoors and a huge variety of dungeons and enemy fortresses.
Gain strength with a unique fortress system. Build and equip fortresses, making your warriors stronger in a wide variety of ways.
Not just orcs and elves. Features the unforgettable races and characters that make Spiderweb Software adventures unique.
Over 100 side quests and hundreds of magical artifacts to hunt for.

Links: