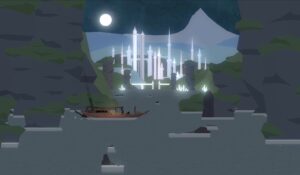 The Greater Good is a "stylised, throwback, turn-based RPG" featuring unique graphics and an original, explosive soundtrack (from electronic producer EnrightBeats). It's inspired by classic turn-based RPGs of the 16-bit era and late 90s. There's "an epic story, optional superbosses, world map, airships, NEW GAME+ and more".
It's pay-once with zero IAP. There are no random battles: you jump and platform your way over enemies and through areas. The battle system has been made easily accessible for newer players. There are also hidden areas and secrets to discover, and a "cool wolf character".
Machines are on the rise while magic is all but forgotten. Few even remember the destruction of the Elemental Tree so many years ago. Team up with a band of unlikely heroes as you rediscover this world's past and fight to save its future.

Meet hilarious friends and make not-so hilarious enemies as you traverse a fully-realized, handcrafted world. Created entirely by one person out of love for classic turn-based RPGs.
Links: