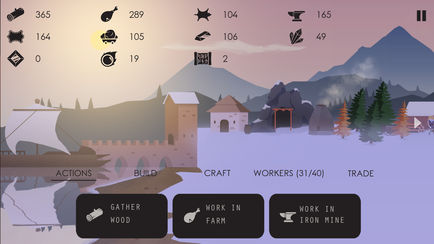 The Bonfire: Forsaken Lands is an achingly beautiful game. It's set in a desolate yet beautiful looking world, and the change of light as the sun moves across the world is exquisite. I bought it for the graphics, which is rare for me, but the gameplay was wonderful as well.
It's as much a strategy-SIM as an RPG. You need to gradually build up your colony, and assign workers to different tasks, adding more and more guards as nightly wolf and monster attacks become tougher.
I found the final battle incredibly easy (after one early failure) by simply levelling up the Titan multiple times after my first failed attempt. You probably only need to level it a couple of times in retrospect.
The Trade feature seemed a bit underdeveloped, and possibly I missed stuff, but there didn't seem to be a need or reason to do more than one Cave Exploration quest.
Build your settlement in a snowy encampment and manage workers and resource to survive monster attacks during nights. Slowly you will gain access to advanced building and crafting options, discover and trade with new civilisations and discover the secrets of the ancients.
Links: