Long anticipated, the first iOS version of an Elder Scrolls game is finally here. The Elder Scrolls: Blades is a 3D dungeon crawler/town builder, where you do jobs and quests and eventually level up your character and rebuild your ruined city. It looks and feels like Skyrim and it's free but with IAP. Here are five key features:
Aspect ratio: you can play Elder Scrolls either in portrait or landscape, and it's genuinely great and very playable in either. It's also reasonably one-handed playable.
Quests: there are main game quests, town quests (or jobs) plus challenges ("Deal 400 damage = 300 coins"), so there's always something to do. If you do run out before more quests appear, there's the endless Abyss to go and grind in.
Rebuild: you'll gradually need to rebuild your city. This includes basic shops, such as a forge and a potion shop, as well as putting decorations around. Everything raises the level of your city, which enables more things to be built/upgraded.
Chests: probably the most controversial feature: this is where IAP comes in. Unless you pay for instant opening with Green Gems, Gold chests take three hours to unlock, Silver chests take three hours to unlock, and Bronze chests take five seconds. But you can only be unlocking one kind of chest at a time. So if you're stuck with a silver being unlocked, you might feel it's worth spending a gem to unlock one of the many Bronze chests you'll discover as you quest.  They typically have bit of timber and a minor healing potion in them.
Arena: Arena mode will be the typical P2P option.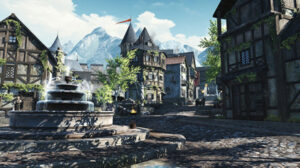 All in all it's pretty fun, with flawlessly smooth and beautiful graphics on my iPhone X. The Chests thing is a bit of a bugbear: I'd rather pay a premium price for the game, or have a nominal monthly subscription option. Otherwise your choice is really to just play occasionally in bursts, or to spend heavy amounts of real money to IAP games. Six hours for a Gold chest is a hell of a wait, but they may be trying to limit server load during the initial release.
Personally, I'm still dreaming of Morrowind Remastered iOS plus an amnesia pill so I can play it 100% fresh, but Blades isn't a bad fill-in until that dream is realised.
Links: