This is part of a collection of non-RPGs that I personally love and am posting on here.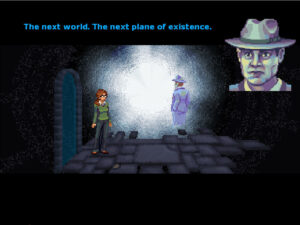 Blackwell is a series of five point-and-click adventure games that include some of the loveliest retro graphics ever, but more importantly a fascinating, compelling storyline. The overall story follows Rosa as she tries to unravel the mysteries of her own past as well as mysteries going on around her, helped by her ghostly friend, "family spirit guide" Joey Mallone.
You switch between these characters, who both have different abilities. Joey, being a ghost and incorporeal, can't move stuff (much) but he can go through doors and eavesdrop on conversations.
Each game is complete in itself, you don't need to play the whole series. But I would recommend starting from the beginning, so if you do enjoy it, you can play all the games in sequence.
Blackwell 1: Legacy – we meet freelance writer Rosa, as she investigates suicides in a college dorm, and starts to realise she has some strange demons of her own
Blackwell 2: Unbound – this a is prequel, which follows the story of Rosa's aunt and Joey back in the 1970s, as they investigate a jazz bar and meet creepy villain The Countess
Blackwell 3: Convergence – we're back to Rosa, who this time is investigating a murder at a film company, and finally meets The Countess herself
Blackwell 4: Deception – Rosa is investigating more murders, and she and Joey encounter a psychic and a man manipulating her
Blackwell 5: Epiphany – the finale: Rosa and Joey investigate a mysterious society linked to The Countess, and there's a sacrifice and a redemption
(The above links go to the AppStore listing for each game – you can also buy all five as a bundle).
The ending also blew me away. It was absolutely complete, with a poignant but satisfying twist.
There's a great overview on Wikipedia, along with links to each of the respective official sites.