No longer available in the App Store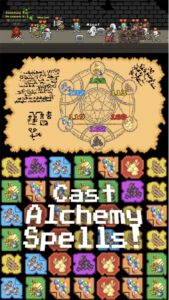 Described as an "action puzzle game with RPG elements", Konrad the Alchemist is a slide-to-match jewel-match game, with a swipe-to-cast-spell circle. Every time you go on a dungeon raid you collect resources as you jewel match, and then swipe to kill the enemies that appear with various spells. These use some resources, while others (such as gold) are used back at base to unlock new areas and raise skills and so on.
It's good fun, with a Story Mode, Skeleton Defense Mode and Free Run. I found simply focusing on Cheaper Fireball at Level 3 (First Spell Circle) was sufficient to kill off all enemies coming at me. So if you don't have the finger speed for lightning fast, more complex manoeuvres, just try that.