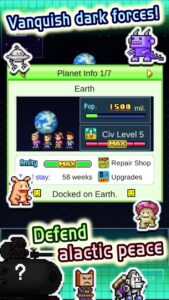 Kairobotica is another fascinating little hybrid Sim RPG from Kairosoft. This time with a space exploration and robots theme, you'll encounter many of the usual features and familiar faces. Where would we be without Sally Prin?! Those that haven't played a Kairosoft game before will still be just fine (Sally Prin is a high level, unlockable, recruitable NPC that shows up in just about every Kairosoft title).
Essentially you build a colony, while moving from planet to planet, helping them, and expanding. As well as planetary missions there are various side missions. If you don't win within the time limit (which is where your final score is calculated) it's no issue, just keep playing. Kairosoft never grants enough time to get anywhere near completion, so just ignore this. There's so much still to do and enjoy.
This game features pastures and animals that you can capture to keep in them. Completionists will probably want to use the Wiki to figure out the various upgrade combinations, to unlock advanced buildings and other secrets. Apparently I failed to find the "Space Panda" (300 Culture + 350 Fun) but I enjoyed the game nonetheless. Kairosoft games can be hit and miss for RPG fans, but Kairobotica is up there with Epic Astro Story for a hybrid that manages to satisfy the main requirements.